Dear visitor, welcome to Legend: Legacy of the Dragons Forum. If this is your first visit here, please read the Help. It explains in detail how this page works. To use all features of this page, you should consider registering. Please use the registration form, to register here or read more information about the registration process. If you are already registered, please login here.
Intermediate
Monday, December 2nd 2019, 8:37pm
[December event] Rewrite the stars - Story


Jesters
were wondering how Faeon history would have developed if certain happenings in the past would have had a different ending.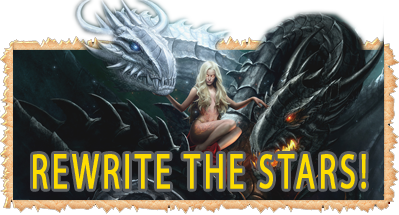 "So much time had passed… Faeo had been scorched by fire and was nothing more than a battlefield, an arena, steeped in blood. But the world's divine roots meant its fathers could not simply abandon it with indifference. Civil war was not a time for contemplation. When the broken and powerless Faeo was further weakened by the magic of a powerful weapon, allowing external enemies to move ever closer to the membrane which protected the world and endanger all that lived there, the threat became very real and the Gods had no choice. Alarmed by the future fate of their creation, they took the decision to send a missionary, an envoy, to Faeo to show its inhabitants the way to salvation."
[...] [
Original story
]
Your task:
Rewrite the Stars - Story
Take the above written entry of Sheara's Arrival and turn it into a completely different story with a new ending.

The story should have at least 500 words and should not resemble the original.

More information to terms and conditions, event schedule as well as rewards
here
.
This post has been edited 4 times, last edit by "Aixlinn" (Dec 24th 2019, 6:41pm)
---
Monday, December 16th 2019, 9:52pm
This is my history.
I'm sorry for my English, I had to translate it. Try to align it with the past and present, to prevent the story from completely deviating. This start is...


It was several years ... humans and magmares were unrecognizable, both sides sought blood, sweat and death, had forgotten all the teachings on crafts, crafts, etc., they only lived to fight and die.
It was a war without quarter, they even betrayed them, there were no allies or enemies, they simply existed themselves. The law of the strongest and most astute rules. Even for more power they were able to do anything. They did not know to which race they belonged.
The gods, seeing the world in decline and the CHAOS increasingly seizing their world, decided to seek some measure to prevent this from happening, they entrusted the goddess Sheara to help her world once more. She thought if she returned to earth and forced humans and magmares to work as blacksmiths, locksmiths, etc., forgetting about fights, they would not do it, because they would see it as an obligation, they needed an example of a person of their own race that makes them come to their senses, a born leader, capable of defeating any evil.
So he thought that his two great sons Striagorn and Erifarius are reborn in the world of Faeo, as representatives of both races. Sheara determined to talk with them, asked for their help and entrusted them with the sacred mission of being beings with all the knowledge so that they can remind them of the people of both races as was their life before the battles without end, that she was protecting them from heaven and whenever they needed help, she would save them. If they needed to talk to her, simply in dreams, she would connect them. She told them that they were going to keep all their memories, but that they would look for the people of each race to give her their job. That is, their mission was not only to remember again, but to make new leaders and leave the teachings to them, so that they can end evil. The saddened dragons decided to carry out the sacred mission and restore each side from scratch with sweat and tears. Gather several comrades and build a new and better home to inhabit.
Sheara also indicated that the CHAOS every time takes over this world and each one of them must be the bridges towards the battle against the CHAOS.
This is how it happened, in the womb of two women of each race chosen by the same Sheara would be born their two children with the knowledge already acquired. Sheara appeared in dreams to each woman and indicated that she would be protected by her. That the son they had in their womb would change the destiny of their race.
That was how two warriors, called Striagorn and Erifarius, were born, capable of facing high-ranking, cunning warriors and knew how to win each of their races. They handled 100% magic and crafts. They were right and wise. That is how each of them began to teach the people around him. In order to end Chaos the common enemy they had.
---
Wednesday, December 18th 2019, 2:06am
Sheara's Arrival - Jabba Style!
At first there was only war, blood and hatred.
Two races clashing against each other, were in an endless war. The only objective of both was to end the other race. This went on and on. Months turned into years, years turned into centuries. War changed, but hatred didn't. Science slowly started to show itself which started a completely new era.
Scientist
Avelius
invented a mechanical device that helped the Magmar soldiers endure the blows on war, and they won the battle easily.
And then, the demolition came.
Magmars entered the City of O'delvays and set aflame almost every building in sight. Sound of the screaming childrens filled the streets of the ruined city. Scientist
Globius
saw that disastrous view from the Pacifist Hills, and locked himself in his tower, with the hope of saving his land (or whatever remained of them).
He activated all the traps in the area, so they couldn't come closer. It looked an abandoned place anyways, so noone forced it.
Lady Dawn
sheltered people who escaped the destruction, and protected them by her magic. In Lumirya Waterfalls, they slowly started to repopulate and formed an army for taking their city back.
Once day, a letter arrived to Warlord. "Gather your army, and be in Royal Tomb at the sunset. We are taking our lands back. -Globius." He gathered an army and prepared for the sunset.
They had nothing more left to lose anyways.
Ogriy army was waiting at the Royal Tomb, just before the sunset. Their hearts were full of hope, they knew that they would regain their lands back. After the sunset, a huge shadow appeared with creaking sounds from the meadows. Noone could believe their eyes. This was a mechanical dragon, invented by
Globius
himself. He had been working on this project all the time. The dragon emitted a ferocious roar, and started to run towards to city, with Orgriy army, shouting with it.
The fight was going very well for humans, they were close to victory, but suddenly another huge shadow knocked down the Ogriy's mecha-dragon. It was a mecha-dragon too, but shining bright red.
Avelius
had not been sleeping after the victory, also had passed
Globius
by stealing his plans. The dragon took off, started to gather a red lightbeam in his mouth, directly towards the blue one. Meanwhile, the blue dragon stood up, and prepared himself by gathering a blue lightbeam against its opponent. When both beams touched each other, the time stopped. Everyone was still conscious, but cannot move nor speak.
A heavenly figure,

Sheara

descended from the sky, almost blinded everyone with her shining divine light.
"YOU ALL ARE ON THE WRONG PATH."
she said.
"You were blinded by war so much that you couldn't see that you're destroying your own world. I am giving life to those creations, and taking them under my control. I am giving the Blue Dragon

Erifarius

, to Humans; Red Dragon

Striagorn

, to Magmars. They will lead you to battle in the Plateau, and they'll stop when you exceed your limits. You can continue to battle, JUST WITH HONOR."
An explosion that stunned everyone followed her words. When everyone woke up, they were at their own lands, and every harm was restored by
Sheara
.
A new era began.
After all that happened, a new era started, Era of the Dragons. The dragons led the both races into battle in plateau, and they fought with honor and respect to each other. Both races followed their dragons, and thanked
Sheara
for saving their world from themself.
(PS: That event happened years years before the current time, so Globius and Avelius were grand-grand-grand father of the scientists in our server currently.)
At last we have the mighty Chewbacca.
---
Wednesday, December 18th 2019, 2:03pm
Benevolent Tyrant
Faeo became a world plunged in constant destruction. Chaos, the most evil force in the universe had taken hold of almost everything. Even the races of magmars and humans were being possessed by the agents of chaos. Widespread bloodshed was ever present and the sword of complete annihilation was dangling overhead. A few scattered groups, fighting their last fight, cried out in hopelessness for any otherworldly force to save them. That's when, from the far reaches of universe, a mysterious force heard this call. Sheara, the embodiment of power, was a rather oxymoron being. Two simple words can define her the best; benevolent tyrant. She possessed the purging staff and was the leader of dragons.

Her two commanders, The Bright Domination (Erifarius) and The Crimson Purgatory (Striagorn) were her most loyal followers. She, along with her dragon army, was the only one powerful enough to hold and possibly defeat the strengthened powers of chaos. Her arrival to the world of faeo was market by the meteor that decimated a complete island controlled by creatures of chaos and everything that lived there. This marked the first powerful blow to chaos in faeo and tides of change could be felt.

Her arrival quickly set into motion the 10,000 year war. Countless dragons and agents of chaos fell. Chaos's brutality was only matched by Sheara's ferocity. It is said that all the water in faeo turned red at one point. The lust for battle was almost insatiable. But Chaos commander and Sheara was getting bored of this stalemate. Sheara was cunning and understood that while the all-powerful Chaos commander lives, this war will never be over. Chaos commander, on the other hand, had developed a hunger for the beauty of Sheara. While this being wasn't capable of feeling love, this hunger was the closest it felt to that and so he sent a proposal to Sheara. Proposal to call it a truce and end this war. He proposed their marriage as a form of pact and that was quite common in those times.


Sheara, after formulating a plan with her generals decided to agree to this proposal. Though it was clear she had alternate motives, chaos never suspected a thing. You know what they say, love (or hunger) makes you blind to even most sensible things. The dark, gothic looking halls were prepared. As a partof pact, it was decided that neither the dragons, not the chaos forces will be present at the wedding. Only Humans and Magmars were allowed to attend as they were considered weak beings. And so, sheara walked down the aisle. The beauty of her was unmatched, just like her ruthlessness. As they stood at altar, ready to take their vows, sheara took out her infamous staff.


The same staff that had purged entire races. The same staff that had brought the wrath on anyone she wanted. And with a quick word, she struck the commander where he stood. But the commander was quick, before she could kill him, he casted a protection. It is unclear if he got thrown forward in time or became frozen solid, but the impact of the attack destroyed miles of area around the temple. In the end, the only one left standing was Sheara.


With Chaos agents, now without any leader, being scattered; Humans and Magmars took up arms against them and the grip of chaos on this world slowly loosened. People started worshipping Sheara as a goddess and her two commanders, bored of peace, decided to take a race each and have battles from time to time.
---