Warriors! We are glad to announce that in
Auction House
at the
City Squares of
O'Delvays and
Dartrong
trades for the
«Special Lots» started
! You'll find
Cerrador Amulet
,
Cerrador Statuette
,
Gift with pet Little Cerrador
on sale.
Pay attention, to what is used as payment method for the items that interest you. Minimum bid is fixed and does not depend on the last bid. Time till the end of the trades is shown in the information about the lot, but it has special feature, trades end no sooner than 10 minutes after the last bet is made. If after the end of the main trade time 10 minutes passed after the last bet, the trade ends automatically. If your bet was surpassed - your funds will be returned back to you.

Don't miss you chance to make a great trade!
Warriors
! For a limited time only bankers of the world of Faeo are offering you a
very generous payment bonus
. Purchase
50,
150 or
300 and receive 100% more
in bonus items!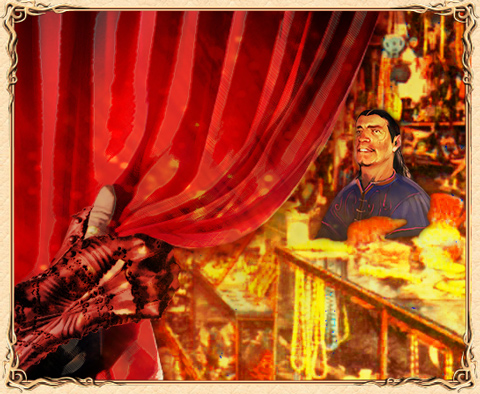 IMPORTANT: You will be able to receive payment bonus one time only!
Bankers' offer will last till May 9th, 12:00 Faeo time.
Make sure that you purchase diamonds by that time!

May time is beautiful like never before. Both animals and birds are enjoying warm rays of Mirrow, Humans and Magmars with pleasure turn their faces to the gentle spring breeze and recall their favourite places in the woods, so that with their friends to go out for a pleasant stroll.
However, one shouldn't forget about their chores! Rulers
Pireney from Settlement of Buimar and
Onufir from Fort Dybrach, whose stockrooms are open and wait for the baskets full of Oilberry, are counting on your help. Wisemen are puzzled: right in the middle of spring cleaning a blast of wind had spread pieces of Origami all over the world of Faeo.
Pandrik and
Flavviy are not able to collect all the pieces on their own and ask for your help too.
Shodu and
Vigor are sure that true warriors can always find time for a feat.
Valuable rewards await those who will find time to help Faeo inhabitants.
Noone knows the world of Faeo better than its valorous defenders. They reach bottom of the oceans and climb as high as clouds go, they research distant and mysterious parts of the world of the dragons.

That is what made Festival Ograniser think about the creation of the walkway of defeated superbeing, dedicated to the anniversary, so that each citizen of Faeo could see the most powerful monsters and value the power of the warriors of the world of the Dragons. Brave warriors! Festival Organizer prepared a new task for you.
Get ready for the fights with the most dangerous creatures of the world of dragons!
Warriors
! Merchants have put up for sale
Especially Precious
and
Precious Forged Trunks
and cordially invite all of you to purchase these unique goods at
City Fairs
of
Dartrong
and
O'Delvays
!
You can find many useful things at the bottom of these coffers and trunks: Certificates, Amulets of Summon and War Mage Amulet, Encased Chess Figures, Combat Potions and other valuable goods.
Other than ordinary chests you can purchase -
Ten-Fold Precious Trunk
! It gifts you same amount of prizes as 10 Especially Precious chests, hence the
chanse to get a rare prize is 10 times higher!
You can now spend less time, instead of opening 10 chests you can open only one - save your energy and your mouse's durability!
Moreover, in each of such chests you will find one of the horseshoes
(if, of course, you don't already have maximum amount of horseshoes of such type). Furthermore, there is a
special offer
-
12
of such chests can be purchased with a
17% discount
!
What is more, from now on for the participation in the event you can additionally get -
Lucky Cerrador Statuette
.
Attention
, this statuette is not a prize, with a certain probability it can be given to you in addition to the prize. If you collect 6 statuettes your can craft
Magic Lasso
. This magical lasso will help you catch and tame a
true mount of the world of Faeo
. Cerrador
,
Scorpolion
,
Restless Dzerug
,
Ice Bear
,
Fierce Pkhadd
- any of these mount can become yours, you can choose which one.
ATTENTION: Merchants sell different chests both with and without Merchant Marks this time!
Hurry! Coffers and Trunks will be available till May 8th, 12:00 server time!
Defenders of Faeo, trust your fate - you won't be disappointed! Buy especially precious trunks and receive valuable and useful goods! May the contents of the coffers help you on your way to new victories and deeds!
The elders that restlessly observe the
Well of Fortune and
Mouth of Fortune in the continents' capitals brought good news to the people of Faeo. They found out that now and then the fire in the bottomless split burns brighter than usual, while the calm water of the well is covered by impenetrable fog.
During this time everyone who throws
10,
100 or
1
in the altars of the fate, can attract the attention of the higher forces and receive quite a real reward: ranging from regular elixirs to unique armor.
Having named this miracle Luck Glow, the elders encourage the warriors
to seize the opportunity to get valuable gifts!
Don't miss the moment when Luck Glow shines over Faeo!
Preparation for the festive fireworks in honor of the decade continues.
The enchanted fireworks, thankfully obtained by the dedicated continents' defenders, wait for their time to blow the night Faeo sky in millions of flickering flashes.
The Festival Organiser needs a wide variety of warrior qualities and emotions – in fact, as is known, they will serve as charges for the anniversary fireworks display.
Battles are never too much! In this weekend even the warlords of
Ogriy
and
Khair
call the warriors to take part in the
Chaotic Battles
. Remain strong and in full force - your weapons and armors will stand against any attack because in this battles
they are not threatened by any breakings
. Fight for voctory - participants in this Chaotc battles;
will receive 50% more valour
than the basic one.
Get up your spirit – let every battle bring you victory!

Brave warriors
! It is time for the great battles -
7
forgotten heroes are back on the battlefields. It is you who will have to help them!

Go to
Dungeons of Forgotten Heroes
and participate in the fierce battles
7 on 7
with your swore enemies.
Incarnate as a hero
, whose time has gone, only you can relive their lives and cross the swords in battle with each other.
Each incarnation has its own
unique abilities
and
battle tactics
. Only complete team of
all 7 incarnations
can have a chance of victory.
Upgrade your heroes during the battles, collect
Token of Forgotten Heroes
from the defeated heroes. Only the team who can find the winning tactics will be able to go till the
end of the dungeons
.
Find the path to the enemy base and destroy their altar in order to win
. It is not as easy as it sounds!
New instance is launched in beta test mode and available for players of level 3 and higher

You can queue up for the new instance via Battlefields tab

- Read more about the new instance in the library
UPDATE2:
Fair assortment was updated again!
Check out useful folios and a number of rare items that merchants have already put on display.
Valuable spheres will let you summon powerful allies during the fight. Use them in to take advantage in the decisive moments in battles.
UPDATE
: Brave warriors! Tradesmen decided to update the assortment of the fair, so that you would be pleased even more with your purchases. Now you can purhcas arcates and bracelets for them.
Pay attention to the new runic bezels, they will be of most use to the professional gatherers.
Use
Malachite Tablet
s
in order to increase your backpack's capacity by up to 10 additional cells.
Card collectors should also pay a visit to the
Premium shop
where they will find a
Set of 60 Conlegret cards
What is that unusual noise that is heard on the Trade Fairs of both capitals? A squeak of bend wood, melodious sound of bowstring, a whistle of flying bows… No, that is not the exchange of fire with the enemy, that is customers trying out newly arrived goods. Warriors' Fair of Wonders has started in the World of Faeo!
Enjoy the fair, warriors!
When the luck is with you, images of the game machine are set in the right order as if you commanded them to do so, and the gold coins fall into your pockets.
Now if the luck keeps favoring you, your pockets will be full of diamonds too. The

«diamond

» one armed bandit is back again, and will operate in addition to the existing one.


Diamond bandit will work till May 2

Play and win, let the luch be on your side more often.