The Festival organizer manages not only to prepare everything for the autumn celebration, but also to investigate the attack that was committed against him on his way to the capital. Not so long ago he has learned where the robbers that have robbed him and escaped justice last time could be hiding now.
Fearing that the bandits are walking around with impunity and intending to interfere with preparations for the celebration of the 10th anniversary again, the Organizer has decided to take measures to catch and eliminate them.
The «Following the Robbers' Trail» quest is intended for those warriors that have reached level 3 and finished the «A Guest Who Vanished» quest. After finishing it, the «The Only Good Robber Is A Dead Robber» quest will become available.
Tired of looking at her reflection in the transparent water as she languishes in the August heat and tedium, the mermaid begins to daydream. After fruitless attempts to find something to lift her mood, she absentmindedly looks at the golden thread tied around her scaly tail as decoration and an idea comes to her mind. A Golden Fish!
This wonderful creature would not only be pleasing to the eye but it would be a pet for the mermaid and the capricious beauty could pour out all her care and affection onto it. The long-haired mermaid can only trust a warrior to catch her a golden fish, justifiably considering that it is not a task for just any inhabitant of Faeo. In addition, the new pet will require a magnificent home and tasty feed, and it is no simple task to acquire all that.

The event will be available to all warriors that have reached level 3.
Defenders of
Ogriy and
Khair
have helped the Festival Organazer more than once by collecting crackers for the upcoming celebration, since they realize the importance of the task of doing everything they can to make the celebration truly bright and interesting. It is the same thought that worries the Festival Organizer himself:
Faeo's birthday is approaching rapidly, so the crackers must be prepared, recounted and checked in the most careful way
. That is what kept the Festival Organizer occupied all day yesterday and he was completely satisfied with the result.
And then the unforeseen happened... Looks like warriors will have to work with the Festival Organizer again, collecting feelings and emotions, from which beautiful fireworks are made!
This weekend our brave defenders of the continents are invited to shake the pillars of the world of Faeo with thundering blows to the ritual gongs of Tallaar Halls! You can stop worrying about your equipment: it won't break in fights there!
Warriors, it's time to take out the blades again!
The celebration can only be saved with your efforts!

Diamonds – are a very sought-after currency that lets any warrior purchase unique and valuable goods.

Defenders of
Ogriy and
Khair! You have a unique opportunity to purchase
Certificate for 50 diamonds
and
Certificate for 100 diamonds
in the
Premium Shop
. Bankers don't want to sell with a loss and will have a commission from every sale, thus the
cost of each certificate is – 120 and 60 diamonds
. Bankers won't sell more than
5 certificates in one hands
. City authorities already announced that you would be able to
sell these certificates on Auction and Exchange.
Pay attention!
Power Leveling Thresholds
are not applied when selling diamond certificates:
seller sets a price according to the demand on the item.
Card collectors should also pay a visit to the
Premium shop
where they will find a
Set of 60 Conlegret cards
Sometimes in order to sell something at a good price,
one has to purchase something at a good price - good luck!
Once again, luck smiled at the sneaky contrabandits, giving them an excellent opportunity to get hold of a large batch of goods for clandestine trading.


Clever businessmen immediately realized how to attract more customers, and made an unexpected move. Having dressed in dark cloaks with deep hoods, they sneaked in the Premium store under the cover of night and concluded with its owners a curious deal: the sale of new contraband goods will be held right there!
Don't miss the opportunity to purchase unique goods!
Warriors!
Evil forces of
Chaos
are planning their invasion into the beautiful world of Faeo again. Mistress of the Dragons
Sheara
is ready to deal with the invaders and will need help from both
Magmars
and
Humans
to save their wonderful homeland. To prevent the destruction and deaths of innocent she decided to attack first and commands you to collect the powerful
Golden Scale
s
to open the
Portal
into the
Chaos World
itself and carry out a poweful blow to cripple the
UyarrMO
leaders and their ugly
Gungls
.
Every player who wants to help
Sheara
with preparations before the fight needs to see
Striagorn
at
Hell's Pass
and
Erifarius
at
Foothills
.
Good luck to you, warriors! And may the heads of UyarrMO generals roll in the name of Sheara!
Warriors
! Merchants have put up for sale
Especially Precious
and
Precious Forged Trunks
and cordially invite all of you to purchase these unique goods at
City Fairs
of
Dartrong
and
O'Delvays
!
You can find many useful things at the bottom of these coffers and trunks: Certificates, Amulets of Summon and War Mage Amulet, Encased Chess Figures, Combat Potions and other valuable goods.
Other than ordinary chests you can purchase -
Ten-Fold Precious Trunk
! It gifts you same amount of prizes as 10 Especially Precious chests, hence the
chanse to get a rare prize is 10 times higher!
You can now spend less time, instead of opening 10 chests you can open only one - save your energy and your mouse's durability!
Moreover, in each of such chests you will find one of the horseshoes
(if, of course, you don't already have maximum amount of horseshoes of such type). Furthermore, there is a
special offer
-
12
of such chests can be purchased with a
17% discount
!
What is more, from now on for the participation in the event you can additionally get -
Lucky Cerrador Statuette
.
Attention
, this statuette is not a prize, with a certain probability it can be given to you in addition to the prize. If you collect 6 statuettes your can craft
Magic Lasso
. This magical lasso will help you catch and tame a
true mount of the world of Faeo
. Cerrador
,
Scorpolion
,
Restless Dzerug
,
Ice Bear
,
Fierce Pkhadd
- any of these mount can become yours, you can choose which one.
ATTENTION: Merchants sell different chests both with and without Merchant Marks this time!
Hurry! Coffers and Trunks will be available till August 9th, 23:59 server time!
Defenders of Faeo, trust your fate - you won't be disappointed! Buy especially precious trunks and receive valuable and useful goods! May the contents of the coffers help you on your way to new victories and deeds!
After calculating the losses from the Kretches raid and the flooding of the pantry, the Festival Organzier was forced to admit that most of the accumulated Firecrackers had been hopelessly ruined. Thanks to the help of the brave warriors, it was possible to replenish the reserves of fireworks, but some of the storage is still empty. There is not much time left before the celebration begins, and therefore it's time to resume hunting for warriors' feelings and emotions, from which beautiful fireworks are made!
Warlocks and mages decided to support brave warriors of Faeo in battle at Arena, Ancient Temple, Tallaar Halls and Crystalline Caves this weekend! That is why from 15:00 Friday through 12:00 Monday your items won't break!
UPDATE:
Bankers' offer will last till
15.08 12:00.
Make sure that you purchase diamonds by that time!


Warriors
! For a limited time only bankers of the world of Faeo are offering you a
very generous payment bonus
. Purchase
50,
150 or
300 and receive 100% more
in bonus items!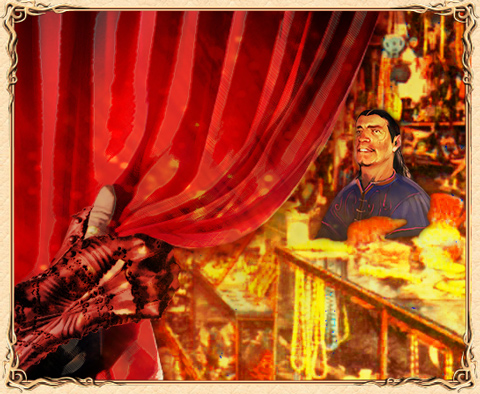 IMPORTANT: You will be able to receive payment bonus one time only!
The elders that restlessly observe the
Well of Fortune and
Mouth of Fortune in the continents' capitals brought good news to the people of Faeo. They found out that now and then the fire in the bottomless split burns brighter than usual, while the calm water of the well is covered by impenetrable fog.
During this time everyone who throws
10,
100 or
1
in the altars of the fate, can attract the attention of the higher forces and receive quite a real reward: ranging from regular elixirs to unique armor.
Having named this miracle Luck Glow, the elders encourage the warriors
to seize the opportunity to get valuable gifts!
Don't miss the moment when Luck Glow shines over Faeo!