Warriors
! For a limited time only bankers of the world of Faeo are offering you a
very generous payment bonus
. Purchase
50,
150 or
300 and receive 100% more
in bonus items!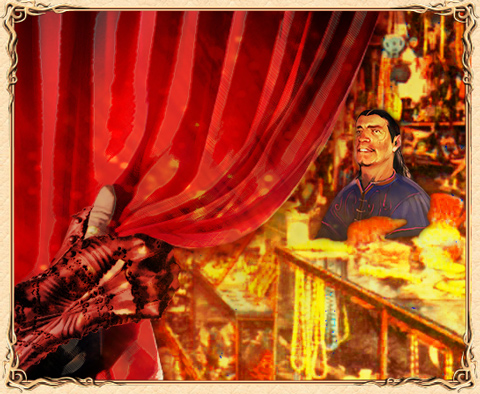 IMPORTANT: You will be able to receive payment bonus one time only!
Bankers' offer will last till 16.08 13:00.
Make sure that you purchase diamonds by that time!


Jesters have a new challenge for you - A Clan Challenge!
"What do our warriors know about friendship and caring for eachother?",
Elder Baguron brought up the issue. "I mean, look at them. There is only killing, rude language and everyone for himself!" He got himself into a right rage whilst he was talking. It was another meeting of the honorables in Faeo. And this time the talk was about unity and support.


We wish you lots of fun and good luck!

The elders that restlessly observe the
Well of Fortune and
Mouth of Fortune in the continents' capitals brought good news to the people of Faeo. They found out that now and then the fire in the bottomless split burns brighter than usual, while the calm water of the well is covered by impenetrable fog.
During this time everyone who throws
1
,
5
,
1
or
5 in the altars of the fate, can attract the attention of the higher forces and receive quite a real reward: ranging from regular elixirs to unique armor.
Moreover, for participating in this event you can additionally get this item for your collection:
Lucky Dzerug Statuette
. Having named this miracle Luck Glow, the Elders encourage the warriors
to seize the opportunity to get valuable gifts!
You can find out more by reading the full news.
Valiant warriors! Mages of Faeo, while closely studying the phenomenon of sporadic storms in different parts of the world, found out that a similar
storm is about to break out in the Crystalline Caves!
Additionally, the changes that the storm will introduce into the usual rules of this battlefield have been revealed! So you now have time to pepare.

You will also have double valor and no-break during the weekend in Crystalline Caves!

Will you have the courage to enter the vaults of the Crystalline Caves during the Magical Storm when the time comes?


Warriors
! Smugglers' accomplices are spreading rumors that
Gloum
and
Chigrik
have gotten hold of rare items, which they are willing to sell in the
Premium Shop
.

Jesters proudly announce the winners of the "Countdown for Russia 2018"
Congratulations to all winners and participants!

We hope you all enjoyed the event!

Defenders of
Ogriy and
Khair!
Merchants have decided to update their Fair's assortment! All buying restrictions have also been reset, so you can purchase goods again!
Old amulets using which you'd be able to call Burial Mound Dzerug, Marble Anlagrissa and Razortooth Scorpolion.
The following new items will also be available during this sale:


Rings will also be available for purchase:
For the most eager and hard-working
resource gatherers
there are
Evil Eye Pot
available.
Brave warriors of Faeo! July was very saturated with events and interesting tasks for you to complete. As usual, you did a great job.
The event «July – The Pleasures of Summer», has come to its end, now we invite you to visit a shop with event rewards at the City Fairs
, which you will be able to purchase with
Carved Dragonfly token
.
If you don't have enough
Carved Dragonfly token
, visit shops at
Chigrik's
and
Gloum's
! These enterprising contrabandists have special
July Bag
, on the bottom of which you will find
Carved Dragonfly token
.
You can purchase these bags both for
gold
and for
diamonds
but you'll be able to buy them
one time only for each currency
.
Hurry to the event reward shop Warriors!
What is that unusual noise that is heard on the Trade Fairs of both capitals? A squeak of bend wood, melodious sound of bowstring, a whistle of flying bows… No, that is not the exchange of fire with the enemy, that is customers trying out newly arrived goods. Hunters Fair of Wonders has started in the World of Faeo!

Enjoy the fair, warriors!


Hunters Fair of Wonders will last till

July 30th
.
Mages of Faeo haven't yet finished investigating the magic storms in different parts of the world, when a similar storm has already broken out on Ancient Plateau and Plateau of Silence!
The only, but very significant change that the storm has brought into the usual battle rules on the Ancient Plateau and the Plateau of Silence is the inability to use most of the negative effects on the enemies in the above mentioned battlefields! But if one already has a negative effect on their character, it will not prevent them from visiting these!

Ready to meet the changed rules fully armed?
Will you have enough courage?

The storm will be over on July 23, 12:00.