Warriors, if you've been meaning to improve your Riding Skills for a while, now is your chance.
In a fit of generosity, Arnica and
Orfin have reduced the fees for learning Riding Skills 2-5 by 10 %. They do need the gold to cover their own costs, but were able to lower their prices for a short time only.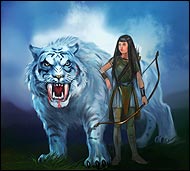 The 10 % discount will be available from 3pm on Wednesday 30/01/2013 until 9pm on Friday 01/02/2013.
You can find out more about riding and mounts on our Portal!
While the respectable citizens of Ogriy and Khair are fast asleep, crooks are busy at work under the cover of darkness, going unnoticed as they haul bags filled to the brim with artefacts back to their hideouts. The following day, word of the new goods that have appeared on the Black Market spreads through Faeo like wildfire.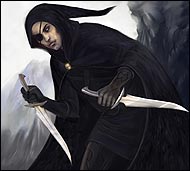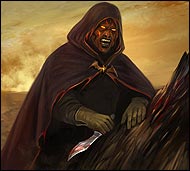 Rumour has it that

Gloum
and

Chigrik
have gotten hold of a multitude of rare items, ranging from dwarven treasures to the hearts of mighty Kroffdors and Eldives, which players could use to increase their reputation. Some even claim that items which used to belong to
General UyarrMO
himself are among the spoils!
Important

Note

:

On 29

January

both bags

are

available again for sale and

you may buy

both

of them

!

This also applies to

players who have

already purchased one of them!
Warriors, take a look at Faeo, your home! You will see something that you have never seen before, something more perilous than all the perils you have faced in this warring world up to now. Enormous, repulsive and terrifying seeds are covering the ground all over Faeo. Bloated by a dark magic, these gigantic seeds are radiating with the powers of evil. You can feel their corrupting energy, which affects
Humans and
Magmars alike.


A terrible danger is looming, and if nothing is done to avert this threat, the world is doomed to fall! Warriors, the Elders
Baguron and
Verkiry are awaiting your assistance in the capital cities.

If you like the sound of

Gold Coins jangling in your purse, and don't like having to scrimp and save all the time, then you need to become friends with a banker! As luck would have it, Forint, who runs the banks in Faeo, is looking to make new friends. He has already selected a number of warriors that he particularly admires, and will soon inform them that they are in his favour.


All warriors are hoping that they will be among the chosen few. The Banker is particularly interested in making younger friends who are not yet part of his institution's regular clientele. However, as Forint wishes to make sure that these chosen warriors are brave and possess fighting spirit, they will only receive the
important message from the Banker
once they have defeated a monster that is at the same level as they are, or at a higher level.
Warriors of Faeo, the time has come to follow the call to arms of the

Human Commander and the
Magmar Commander. It is time to go back to the battlefield and lead your race into a weekend full of fierce battles and everlasting glory!

The Precious Chest Shops in the
Valley of Fire and the

Outskirts of Klesva will soon open their doors for a short time. You will be able buy the following chests there until Thursday 22:30 Faeo time:

These chests are filled with
rare and valuable items
. There are four different types of chests which vary in their design and price. If you decide to buy one of the more expensive chests you will have a
higher chance
of receiving a valuable item such as an
Assassin's Battle Axe
, a
Cerrador Amulet
, a
Titan Belt
and many other great things.
Warriors, a new year has has begun, let it be your year of luck! In next days you can expect fantastic prizes and a stunning jackpot!


From now until January 27, 22:30 Faeo time Jackpot Coins will appear at various places in Faeo. Wherever you find one, take it and collect the coins. You might be able to receive them from monsters. It is also worthwhile having a look on the ground at the Plateau of Silence.


Did you like the Happy Hours in the Arena and the Temple? Then we have some fantastic news for you! More Happy Hours today - in the Crystalline Caves!


During the
Happy Hours,
you'll get the chance to obtain the last key for the
Temple Chest
. You'll automatically receive the key when you've been victorious in the Crystalline Caves at least one time.
You'll also receive double Valor for every victory and every defeat!

Hurry! The Happy Hours in the Crystalline Caves will take place on Monday from 14:00 Faeo time until 20:30 Faeo time. .
Warriors, there are great news from the Underground Knights! They will offer unique happy hours for you today in their arena. This is an opportunity not to miss! Come to the arena and enjoy.



During the Happy Hours every victory earns you a Precious Casket!


Hurry up! The Happy Hours in the Arena are from Friday 11:00 Faeo time until 22:00.
During that time you can buy the Anti-Ageing-Potion in the Shop at the City Square.
Warriors, the
One-Armed Bandit
will be in operation again from
Friday, January 18, 11:00 Faeo time
for your amusement. It disgorges mounds of
Gold
coins right into the hands of the lucky winners. Winnings clink in players' pockets, and superstitious players hold firmly onto their lucky charms. It goes without saying that, although this game is risky, it is great fun – all the warriors have been caught up in the gambling fever.
You can try to win the jackpot wherever you are
, the one-armed bandit
can be reached from every location
!
But who knows when Lady Luck will smile on them? She is very capricious – sometimes she showers the fortunate with her gifts, while at other times she can take the last copper coin from a poor wretch. To protect you from large losses the One-Armed Bandit has been configured to only accept large bets when you have sufficient money in your wallet to live well. In other words,
the more
gold you have clinking in your pocket, the more money you can bet
, so as to win big! But the opposite is also true: If a warrior's wallet has been empty for a long time, the machine will only allow him to place a small bet. This means that his loss will be smaller if he does not win.