Defenders of Faeo!
Work boils day and night in the foreign fortresses as combat brotherhoods are striving to expand their possessions and to derive the maximum benefit from the buildings. We hurry to bring you great news! Starting from today you can build a new building in the
Clan Citadel.
The
Unity Crystal
will allow you to
automatically
receive new daily tasks. To perform these tasks, you will need to be in the same group as your clan members. With the help of the
new building
you will be able to receive the
Clan Unity Token
s
and exchange them for
new products
in the shop.
Let the new building of your clan become the guarantor of your unity, prosperity and power!



Tired of looking at her reflection in the transparent water as she languishes in the August heat and tedium, the mermaid begins to daydream. After fruitless attempts to find something to lift her mood, she absentmindedly looks at the golden thread tied around her scaly tail as decoration and an idea comes to her mind. A Golden Fish!
This wonderful creature would not only be pleasing to the eye but it would be a pet for the mermaid and the capricious beauty could pour out all her care and affection onto it. The long-haired mermaid can only trust a warrior to catch her a golden fish, justifiably considering that it is not a task for just any inhabitant of Faeo. In addition, the new pet will require a magnificent home and tasty feed, and it is no simple task to acquire all that.

The event will be available to all warriors that have reached level 3.
Brave Warriors
! Merchants have put up for sale
Especially Precious and Precious Forged Trunks
and cordially invite all of you to purchase these unique goods at
City Fairs
of
Dartrong
and
O'Delvays
!
This time, however, several new products are waiting for you!
At the bottom of precious chests you can find many useful things:
certificates
, medallions for summoning
pets
and
amulets of battle mages
,
chess pieces
, combat
elixirs
and other
valuable goods
.
Special attention should be paid to the novelty, which appeared on the merchants counter!

Defenders of Faeo, trust your fate - you won't be disappointed! Buy especially precious trunks and receive valuable and useful goods! May the contents of the coffers help you on your way to new victories and deeds!
Precious chests sale will be over on August 10th, 12:00!

Jesters present their new magazin with the most important Headlines around Faeo!
Find out what is happening in the World of Faeo in our latest edition of

Jesters Delight Edition 01/2018


Enjoy the lecture!

Warlods of
Ogriy and
Khair! have announced wonderful news having gathered the support of knights! Starting from now and until 12:00 August 6th, the winners of battles on the battlefields will receive twice as much «Trophy Hunters» reputation points!
And remember that the place of the battlefield does not matter, because even in the most remote corners of Faeo where you can get valuable reputation points, you will get a well-deserved reward! Now is the time to test your strength in the hot battles! However, it is worth hurrying, since after the «Hunting for Trophies» event is over, the rewards will once again become the same.
Adittionally, don't miss
twice as much valor
in
Tallar Halls
and
no-break
in
Tallar Halls, Crystalline Caves, Arena and Temple
during the
entire weekend
!
Let the clang and the clatter of battles continue until the very morning, for the warriors are worthy of a reward!
The benevolent
Luck Glow
sent down by the higher forces to the lands of Faeo has
extinguished
.
..


Who has earned the blessing of the changeable fortune thanks to their excitement and generous offerings this time? How close were the representatives of each race to each other? Read more information in the news...


Warriors of both continents can receive the promised reward from the Well of Fortune and Mouth of Fortune at the City Squares of O'Delvays and Dartrong.
Path to the kingdom of doubles and reflections was reputed to be blocked by the surface of mirrors.
Yet now heavenly bodies are positioned in a special way, that the boundaries are no longer sealed!
This rare opportunity was instantly used by mirror-world spirits, who want to own all gold in the world.
Don't be afraid of hostile invasion though. spirits will only offer warriors to play a game. When you pay
50
, you'll be able to receive one of the many valuable items, from the mirror-world, or even
amazing artefacts, that couldn't be obtained in any other way.
Wheel of Fortune
promises wealth and fortune, but its behaviour is unpredictable! Are you ready to challenge the spirits of luck?
Turn the Wheel of Fortune, warriors! Receive bonuses to your diamonds exchange!
The Wheel of Fortune will be operating till August 6th 12:00
Warriors
! For a limited time only bankers of the world of Faeo are offering you a
very generous payment bonus
. Purchase
50,
150 or
300 and receive 100% more
in bonus items!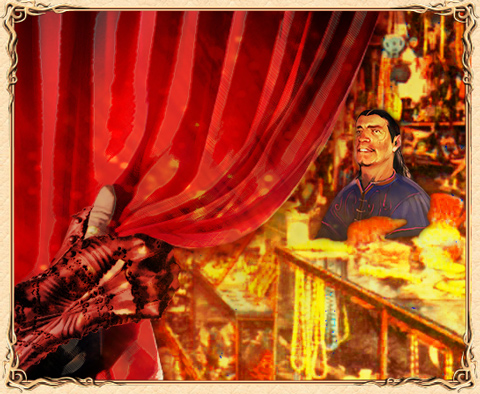 IMPORTANT: You will be able to receive payment bonus one time only!
Bankers' offer will last till 16.08 13:00.
Make sure that you purchase diamonds by that time!


Jesters have a new challenge for you - A Clan Challenge!
"What do our warriors know about friendship and caring for eachother?",
Elder Baguron brought up the issue. "I mean, look at them. There is only killing, rude language and everyone for himself!" He got himself into a right rage whilst he was talking. It was another meeting of the honorables in Faeo. And this time the talk was about unity and support.


We wish you lots of fun and good luck!