Insidious is the enemy that managed to get into the capital under the Festival Organizer's disguise!
And this is only the benining of the advent of a secret cult that practices forbitten witchcraft... The elders of
Ogriy and
Khair
are tirelessly giving out orders, preparing for defense. However, the enemy which they had to face on jubilee celebrations eve is so powerful that they won't be able to confront him on their own.
Having judiciously assessed the situation, the experienced elders decided to ask for help... from Unarius himself! It is known that this great magician left Faeo's borders sometime in the past, but will it be possible to bring him back?
The «Bring Back Unarius!» quest is intended for those warriors that have reached level 3.


Warriors!
Game servers will be stopped from
11:00, October 3rd
to perform the update. Game servers
won't
be available for about
2 hours
or more.
We are sorry for the potential inconvenience and thank you for understanding.
Warriors
! For a limited time only bankers of the world of Faeo are offering you a
very generous payment bonus
. Purchase
50,
150 or
300 and receive 100% more
in bonus items!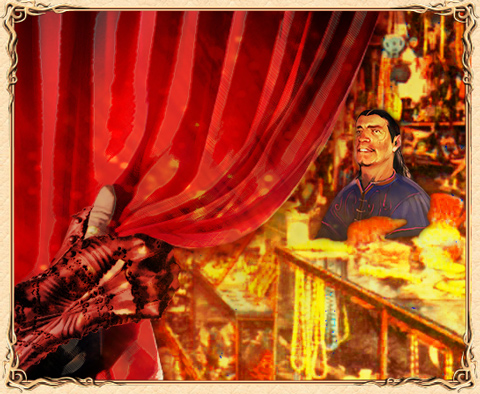 IMPORTANT: You will be able to receive payment bonus one time only!
Bankers' offer will last till 16.10 12:00.
Make sure that you purchase diamonds by that time!

The elders that restlessly observe the
Well of Fortune and
Mouth of Fortune in the continents' capitals brought good news to the people of Faeo. They found out that now and then the fire in the bottomless split burns brighter than usual, while the calm water of the well is covered by impenetrable fog.
During this time everyone who throws
10,
100 or
1
in the altars of the fate, can attract the attention of the higher forces and receive quite a real reward: ranging from regular elixirs to unique armor.
Having named this miracle Luck Glow, the elders encourage the warriors
to seize the opportunity to get valuable gifts!
Don't miss the moment when Luck Glow shines over Faeo!
The situation in Faeo on anniversary celebrations eve is becoming more and more tense. Strange robbers continue to gather in the Secret Sanctuary and the mystery of the fell stones and outbreaks of the madness epidemic has not been resolved.
Elders of both races struggle to figure out what is going on,
but to get to the bottom of it they need to know even the smallest details. Whom can wise old men rely on in such difficult times? Only on you!
The «Threads of the Conspiracy' » quest is intended for those warriors that have reached level 3 and finished the «A Guest Who Vanished», «A Virulent Disease», «Woe without Wit» and «On The Verge Of Madness» quests.
Warriors! Mistress of the Dragons Sheara has decided to bless all warriors who go to the Tallaar's Halls this weekend!
Queue up for Tallaar's Halls starting from today September 29 and your items will not break in case of the defeat in Tallaar's Halls till October 2nd, 12:00 and you will receive doulbe valor!

Warriors of Faeo!
This is what all the inhabitants of
Ogriy
and
Khair
have been waiting for! Commoners whispered about it in taverns, magicians tried to predict it, warriors discussed it between the battles. However, no one could know all the details until the very end. But today it has finally become known that changes will happen in the game on the
3rd of October
!
The long-awaited update
will bring with it a lot of interesting things:
New Astral Hunter and Defender of the continent reputation
New rules for the attack on the caravan of merchants
New Sheara's challenges
Quick access pockets will be introduced
New "Glory" attribute will be added
New clan citadel buildings will appear
Many other changes, that will make your gameplay more fun!
The changes will happen very soon!
Diamonds – are a very sought-after currency that lets any warrior purchase unique and valuable goods.

Defenders of
Ogriy and
Khair! You have a unique opportunity to purchase
Certificate for 25 diamonds
,
Certificate for 50 diamonds
and
Certificate for 100 diamonds
in the
Premium Shop
. Bankers don't want to sell with a loss and will have a commission from every sale, thus the
cost of each certificate is – 32.5, 65 and 130 diamonds
. Bankers won't sell more than
5 certificates in one hands
. City authorities already announced that you would be able to
sell these certificates on Auction and Exchange.
Pay attention!
Power Leveling Thresholds
are not applied when selling diamond certificates:
seller sets a price according to the demand on the item.
Card collectors should also pay a visit to the
Premium shop
where they will find a
Set of 60 Conlegret cards
Sometimes in order to sell something at a good price,
one has to purchase something at a good price - good luck!
The robbers hiding in the Elfin Sanctuary and threatening the peaceful celebration of the 10th anniversary of Faeo turned out to be quite not so simple! In addition to the magical amulets, they also have some powerful magical elixir.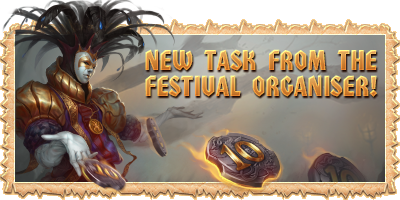 This became known from the deciphered scrolls. The Festival Organizer has just been informed that a thug with a strange bottle on his belt was seen in the Sanctuary. Apparently, it contains this same elixir, in the strength of which the rascals believe so much!


The «Jar of Robbers' Potion» quest is intended for those warriors that have reached level 3 and finished the «Following the Robbers' Trail» quest. After finishing it, the «Experiments Must Go On» quest will become availble once every day.
Defenders of
Ogriy and
Khair!
Merchants have decided to update their Fair's assortment!
Old amulets using which you'd be able to call Burial Mound Dzerug, Marble Anlagrissa and Razortooth Scorpolion.
Have a close look at the old packs of cards: in particular, you'd be able to summon DefilerDO Wraith once a week, with the help of «Chaos». «Exiles' Fortress» pack will enable you to summon the Great Lizard Wraith once a week.
Check out useful folios and a number of rare items that merchants have already put on display.
Valuable spheres will let you summon powerful allies during the fight. Use them to get advantage in the decisive moments in battles.
Good shopping, warriors!
The Fair will be open till October 2nd