The elders that restlessly observe the
Well of Fortune and
Mouth of Fortune in the continents' capitals brought good news to the people of Faeo. They found out that now and then the fire in the bottomless split burns brighter than usual, while the calm water of the well is covered by impenetrable fog.
During this time everyone who throws
10,
100 or
1
in the altars of the fate, can attract the attention of the higher forces and receive quite a real reward: ranging from regular elixirs to unique armor.
Having named this miracle Luck Glow, the elders encourage the warriors
to seize the opportunity to get valuable gifts!
Don't miss the moment when Luck Glow shines over Faeo!
Private sale is closed

UPDATE2: Due to technical problems, there is no quick fix for the vampirism problem. We changed Bezels's stats so that they are now even cooler than with vampirism if it worked correctly.


UPDATE: Bezels with vampirism effect currently don't have such effect. Working on a fix that will be applied shortly.
Warriors, the tradesman just opened the door to his private sale! Let's have a look at what he has to offer...
Warriors! Mistress of the Dragons Sheara has decided to bless all warriors who go to the Tallaar's Halls this week!
Queue up for Tallaar's Halls starting from today February 27, 16:25 Faeo time and your items will not break in case of the defeat in Tallaar's Halls till March 6! Good luck!
There are tradesmen in the world of Faeo, who are ready to deal only with warriors who have proven their ability to pay in action! Special door are opened for such guest... That is why it should not be a surprize that one of the tradesmen decided to have a special sale for those who purchase from
150 diamonds in one payment from 10:00, 23 February till 27 February, or from
300 diamonds after the shop opens.
Remember that only recommendation from he banker will have value for the tradesman. The fact of diamonds purchase will serve as a proof of your seriousness and open the path to the sale!
Warriors
! For a limited time only bankers of the world of Faeo are offering you a
very generous payment bonus
. Purchase
50,
150 or
300 and receive 100% more
in bonus items!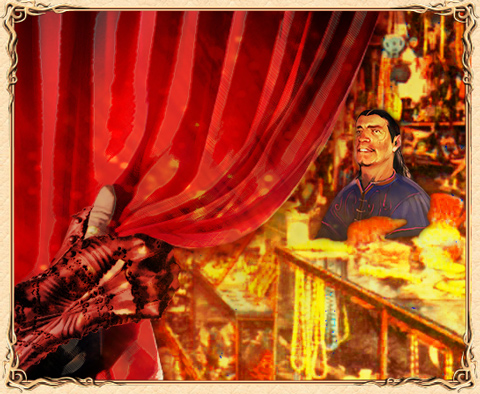 IMPORTANT: You will be able to receive payment bonus one time only!
Bankers' offer will last till March 1st, 12:00 Faeo time.
Make sure that you purchase diamonds by that time!
Trade fair is closed


Defenders of
Ogriy and
Khair!
Merchants have decided to update their Fair's assortment!
There is a variety of card decks which most warriors will find handy in fights. With
Legendary Magmars II Old Pack of Cards
and
Legendary Humans II Old Pack of Cards
you will be able to summon
Legendary Warrior Wraith [13]
Check out useful folios and a number of rare items that merchants have already put on display.
Valuable spheres will let you summon powerful allies during the fight. Use them in to take advantage in the decisive moments in battles.
Good shopping, warriors!
Diamonds – are a very sought-after currency that lets any warrior purchase unique and valuable goods.

Defenders of
Ogriy and
Khair! You have a unique opportunity to purchase
Certificate for 50 diamonds
and
Certificate for 100 diamonds
in the
Premium Shop
. Bankers don't want to sell with a loss and will have a commission from every sale, thus the
cost of each certificate is – 130 and 65 diamonds
. Bankers won't sell more than
5 certificates in one hands
. City authorities already announced that you would be able to
sell these certificates on Auction and Exchange.
Pay attention!
Power Leveling Thresholds
are not applied when selling diamond certificates:
seller sets a price according to the demand on the item.
Card collectors should also pay a visit to the
Premium shop
where they will find a
Set of 60 Conlegret cards
Sometimes in order to sell something at a good price,
one has to purchase something at a good price - good luck!
Despite upcoming beginning of the Spring on the calendar, the cold doesn't hurry to leave the world of Faeo, that is why
humans
and
magmars
organize the true Farewell to Winter.
During the next week residents of Faeo will make lush and ruddy pancakes and have a good time asking Mirrow to shine brighter and warmer
.
Givens
and
Voluptuous Mary
will help you make the ruddy pancakes. The more pancakes you eat the warmer Mirrow will shine
!
Let's say goodbye to the winter together!
What is that unusual noise that is heard on the Trade Fairs of both capitals? A squeak of bend wood, melodious sound of bowstring, a whistle of flying bows… No, that is not the exchange of fire with the enemy, that is customers trying out newly arrived goods. Warriors' Fair of Wonders has started in the World of Faeo!
Enjoy the fair, warriors!
If you are in a good mood, there is always a reason to celebrate! That is what the tireless entertainers and cheerful stunners, who amuse Faeo residents with their performances think.
The beautiful
Nadilarie
, who cannot stand the boredom and dismay, and the cheerful
Sheamus
, a man, who exchanged his satisfied life for the chainless travels with the troop tradesmen, decided to cheer up the residents of Ogriy and Khair with the exciting event –
Carnival
!
The fate of the Carnival is in your hands!