Brave warriors! As Organiser decided to increase the number of fireworks, he will need more warrior qualities and emotions to convert them into firecrackers.
During this weekend you will have a perfect opportunity to demonstrate how well you can handle your weapon at the
Chaotic battles
!
Your armor and weapons won't break

from 15:00 of Friday till 15:00 of Monday

.
Good luck in battles!
Brave warriors of Faeo! May was very saturated with events and interesting tasks for you to complete. As usual, you did a great job.
The event «May Mess» has come to its end, now we invite you to visit a shop with event rewards at the City Fairs
, which you will be able to purchase with
Carved Flame Token
s
.
Pay attention to a card for Conlegret game from the new event deck. After the end of each monly event you'll be able to collect cards like this and by the end of the year become the owner of full card set.
If you don't have enough
Carved Flame Token
s
, visit shops at
Chigrik's
and
Gloum's
! These enterprising contrabandists have special
May Bag
s
, on the bottom of which you will find
Carved Flame Token
s
.
You can purchase these bags both for
gold
and for
diamonds
but you'll be able to buy them
one time only for each currency
.
Hurry to the event reward shop Warriors!
From time to time the people of Faeo witness a unique and fairy occasion of Star Shower. The night sky illuminated only by the starlight is pierced by fiery meteors, leaving a sparkling trail. You just can't miss it!
During this time the citizens and villagers know no sleep and rest - they go out in the streets having pinned Asters flowers that shine in dark to their lapels they enjoy the spectacular show.
It is the time of Star Showers in Faeo!
Who would have thought that for the festive firework one needs so many firecrackers! In order for the fireworks to be seen from any point of the world of Faeo and so that even the citizents of the distant Islands of Eternal Frost could observe the grand show, Festival organizer decided to increase the amount of firecrackers. It means only one thing: we need even more war qualities and emotions for them to be transformed into the colorful firecrackers.
Warlocks and mages decided to support brave warriors of Faeo in battle at Arena, Ancient Temple and Crystalline Caves this weekend! That is why from 18:00 Friday through 12:00 Monday your items won't break!
Even magic is on your side! Use this advantage to defeat your opponents!
Warriors! We are glad to announce that in
Auction House
at the
City Squares of
O'Delvays and
Dartrong
trades for the
«Special Lots» started
! You'll find
Cerrador Amulet
,
Cerrador Statuette
,
Gift with pet Little Cerrador
on sale.
Pay attention, to what is used as payment method for the items that interest you. Minimum bid is fixed and does not depend on the last bid. Time till the end of the trades is shown in the information about the lot, but it has special feature, trades end no sooner than 10 minutes after the last bet is made. If after the end of the main trade time 10 minutes passed after the last bet, the trade ends automatically. If your bet was surpassed - your funds will be returned back to you.

Don't miss you chance to make a great trade!
Warriors
! For a limited time only bankers of the world of Faeo are offering you a
very generous payment bonus
. Purchase
50,
150 or
300 and receive 100% more
in bonus items!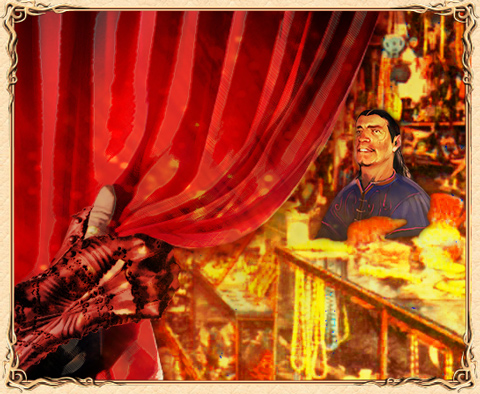 IMPORTANT: You will be able to receive payment bonus one time only!
Bankers' offer will last till May 9th, 12:00 Faeo time.
Make sure that you purchase diamonds by that time!

May time is beautiful like never before. Both animals and birds are enjoying warm rays of Mirrow, Humans and Magmars with pleasure turn their faces to the gentle spring breeze and recall their favourite places in the woods, so that with their friends to go out for a pleasant stroll.
However, one shouldn't forget about their chores! Rulers
Pireney from Settlement of Buimar and
Onufir from Fort Dybrach, whose stockrooms are open and wait for the baskets full of Oilberry, are counting on your help. Wisemen are puzzled: right in the middle of spring cleaning a blast of wind had spread pieces of Origami all over the world of Faeo.
Pandrik and
Flavviy are not able to collect all the pieces on their own and ask for your help too.
Shodu and
Vigor are sure that true warriors can always find time for a feat.
Valuable rewards await those who will find time to help Faeo inhabitants.
Noone knows the world of Faeo better than its valorous defenders. They reach bottom of the oceans and climb as high as clouds go, they research distant and mysterious parts of the world of the dragons.

That is what made Festival Ograniser think about the creation of the walkway of defeated superbeing, dedicated to the anniversary, so that each citizen of Faeo could see the most powerful monsters and value the power of the warriors of the world of the Dragons. Brave warriors! Festival Organizer prepared a new task for you.
Get ready for the fights with the most dangerous creatures of the world of dragons!
Warriors
! Merchants have put up for sale
Especially Precious
and
Precious Forged Trunks
and cordially invite all of you to purchase these unique goods at
City Fairs
of
Dartrong
and
O'Delvays
!
You can find many useful things at the bottom of these coffers and trunks: Certificates, Amulets of Summon and War Mage Amulet, Encased Chess Figures, Combat Potions and other valuable goods.
Other than ordinary chests you can purchase -
Ten-Fold Precious Trunk
! It gifts you same amount of prizes as 10 Especially Precious chests, hence the
chanse to get a rare prize is 10 times higher!
You can now spend less time, instead of opening 10 chests you can open only one - save your energy and your mouse's durability!
Moreover, in each of such chests you will find one of the horseshoes
(if, of course, you don't already have maximum amount of horseshoes of such type). Furthermore, there is a
special offer
-
12
of such chests can be purchased with a
17% discount
!
What is more, from now on for the participation in the event you can additionally get -
Lucky Cerrador Statuette
.
Attention
, this statuette is not a prize, with a certain probability it can be given to you in addition to the prize. If you collect 6 statuettes your can craft
Magic Lasso
. This magical lasso will help you catch and tame a
true mount of the world of Faeo
. Cerrador
,
Scorpolion
,
Restless Dzerug
,
Ice Bear
,
Fierce Pkhadd
- any of these mount can become yours, you can choose which one.
ATTENTION: Merchants sell different chests both with and without Merchant Marks this time!
Hurry! Coffers and Trunks will be available till May 8th, 12:00 server time!
Defenders of Faeo, trust your fate - you won't be disappointed! Buy especially precious trunks and receive valuable and useful goods! May the contents of the coffers help you on your way to new victories and deeds!
The elders that restlessly observe the
Well of Fortune and
Mouth of Fortune in the continents' capitals brought good news to the people of Faeo. They found out that now and then the fire in the bottomless split burns brighter than usual, while the calm water of the well is covered by impenetrable fog.
During this time everyone who throws
10,
100 or
1
in the altars of the fate, can attract the attention of the higher forces and receive quite a real reward: ranging from regular elixirs to unique armor.
Having named this miracle Luck Glow, the elders encourage the warriors
to seize the opportunity to get valuable gifts!
Don't miss the moment when Luck Glow shines over Faeo!