Valiant warriors! Mages of Faeo, while closely studying the phenomenon of sporadic storms in different parts of the world, found out that a similar
storm is about to break out in the Crystalline Caves!
Additionally, the changes that the storm will introduce into the usual rules of this battlefield have been revealed! So you now have time to pepare.

You will also have double valor and no-break during the weekend in Crystalline Caves!

Will you have the courage to enter the vaults of the Crystalline Caves during the Magical Storm when the time comes?


Autumn is not just a time for gathering the harvest or sitting thoughtfully by the fire and walking around golden forests... It is also a time to pursue knowledge and then to test out what has been learned. It is pleasant to sit with a book as multi-colored leaves fall from the trees, with a little cup of warm elixir or aromatic tea...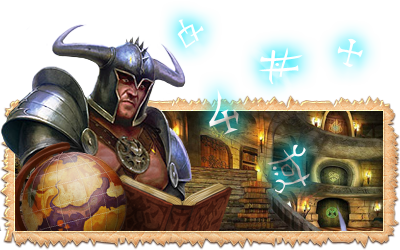 But, unfortunately, book lovers cannot rest easy for long! The monsters that inhabit Faeo are not just merciless with the peaceful residents of Faeo, but also with their book collections. By taking precious folios to different corners of the world and tearing vital pages out of them, they have created plenty of work for warriors! You will not only have to fight the evil library robbers, but also look for whom one or another parchment might belong to.
Luckily, the owners of the devastated bookshelves are willing to generously reward those who find their missing books!
Spend autumn days with profit to yourself warriors!