While all the people of Faeo are preparing for the celebration of the glorious jubilee, the robbers that are hiding in the Elfin Sanctuary are not wasting time either. A new thug has arrived there this time, a scroll was seen in his clutches. What secrets does this scroll hold? The gang's insidious plans? A message to unknown accomplices? A list of targets for an unexpected attack? This kind of knowledge can save many lives!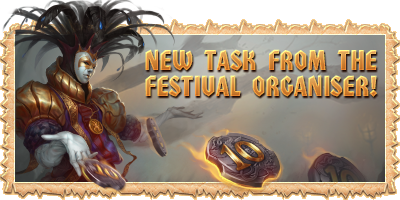 The Festival Organizer has to get the mysterious scroll as soon as possible and therefore appeals to you for help. You will need to gather a squad of warriors and go to the Elfin Sanctuary to hunt the robber there once again. Are you ready for such a dangerous campaign? Then hurry – The Organizer will pay you generously for the service!
The «Robbers' Secret Code» quest is intended for those warriors that have reached level 3 and finished the «Ain't No Rest For The Robbers» quest. After finishing it, the «Searching For The Robbers' Scrolls» quest will become availble once every day..
Attention!

The «Secret Sanctuary» instance is available once every 4 hours.
Even if you visited the instance with a group to help other warriors, you will be able to return to the «Secret Sanctuary» to complete the «Ain't No Rest For The Robbers» and «Enemy In A Dark Room» quests only after the specified timeframe has passed!
List of all tasks and events, regarding the 10th Anniversary, can be found on the special promotional page.