Heeding the Great Dragons' call, humans and magmars are ready to prove their warrior skills and willingness to win on the legendary battlefields of Faeo. Defenders of the Continents need to demonstrate their strength, endurance and the ability to hold a blow in fierce duels with each other to glorify their race.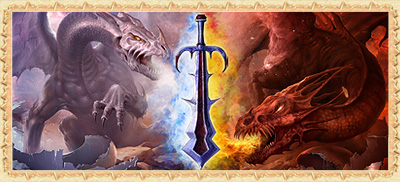 Crystalline Caves, Arena, Ancient temple, Chaotic battles and Tallaar's Halls will be the most important battlefields, where the competition between the races will be held!
And for the battles to be even more fascinating, the sale of valuable items has began in the Premium Shop. It will last until 14:00 29.03. But that's not all: on March 21, 23, 25 and 27 at 14:00, purchase restrictions will be reset!
Light up the fire of the battle in hearts, earn your people a victory! Participate in the Fury of the Dragons event - let the world know about its heroes!