In house at the City Fair where Festival Organizer lives the signs of active work are present all day long. At first, people were noticing warriors who were visiting organizer with weird medalions in hands, then they got used to such visits, thinking it was connected to the upcoming celebration.
Brave warriors!
As
Organiser decided to increase the number of fireworks
, he will need more warrior qualities and emotions to convert them into firecrackers.
Your task this time – Chaotic battles
and fight at the battlefields of Faeo! Chaotic battle – is a place to fight for
warriors of

level 5 and higher.
During the battles you will have to charge special Enchanted Powder – new invention of Festival Organizer – with strength of spirit.
Crystalline Caves, Arena and Temple – battlefields for
levels 3 and 4,
where they will have to charge magic amulets with
Bitterness of Defeat of their enemies
.
Festival organiser
is looking for volunteers at the
City fairs of
Dartrong and
O'Delvays
to complete quests «A War Trophy for the Tenth Anniversary: Bitterness of Defeat» and «A War Trophy for the Tenth Anniversary: Strength of Spirit».
You can accept the quests

from 15:00 of Friday (May 12) till 15:00 of Monday (May 15).

Organiser accepts charged amulets and powder

till 12:00 of Tuesday
(May 18).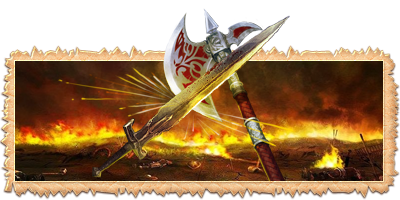 During this weekend you will have a perfect opportunity to demonstrate how well you can handle your weapon at the
Chaotic battles
!
Your armor and weapons won't break

from 15:00 of Friday till 15:00 of Monday

.
Good luck in battles!