Autumn is not just a time for gathering the harvest or sitting thoughtfully by the fire and walking around golden forests... It is also a time to pursue knowledge and then to test out what has been learned. It is pleasant to sit with a book as multi-colored leaves fall from the trees, with a little cup of warm elixir or aromatic tea...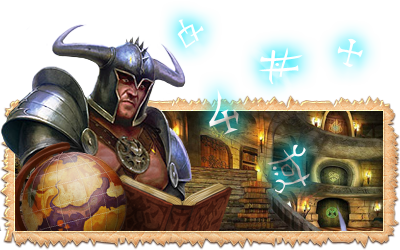 But, unfortunately, book lovers cannot rest easy for long! The monsters that inhabit Faeo are not just merciless with the peaceful residents of Faeo, but also with their book collections. By taking precious folios to different corners of the world and tearing vital pages out of them, they have created plenty of work for warriors! You will not only have to fight the evil library robbers, but also look for whom one or another parchment might belong to.
Luckily, the owners of the devastated bookshelves are willing to generously reward those who find their missing books!
Spend autumn days with profit to yourself warriors!
The

Jesters want to celebrate our Monthly Lottery's ONE-YEAR-ANNIVERSARY with you!
It seems like yesterday since we started with our Big Fat Monthly Lottery. But one year has passed and

Jesters like to celebrate this first year with all of you!

Don't miss your chance to win the Jackpot and hurry to participate!



We wish you lots of fun and good luck!


Jesters Clan Challenge - The Results!
A decision has been made! And the

Jesters would like to proudly present you the winners of the Clan Comic Contest! However, the competition is far from over, as we have decided to add one more winning place!


Choose fair and wisely and to your own liking!

Defenders of
Ogriy and
Khair!
Merchants has decided to updated their Fair's assortment!
Red tools are now on sale
at the Trade Fair
for
diamonds and
gold!
For those of you who like
red armor
merchants have prepared something special. You won't be disappointed! A special red armor
charmed
by
gnomish sorcery
.
Ņurious novelties that will definitely make your Shadow happy have also appeared on sale. Traders will gladly offer you an assortment of rings, bracelets and amulets of twilight power.
Especially for those who feel an unusual ease in their pockets and would like to make up the gold that they've spent as soon as possible, traders are ready to concede Pots with gold at a bargain price.
The Fair will last until August 31th, 12:00!


Happy shopping, warriors!
Valorous defenders of
Ogriy and
Khair!
The bankers of Faeo have
great news
for everyone who is planning to use their services and
replenish your diamond account!
A
unique
offer will be available
from

August 27

and till

August 30
2018
after buying
100
you will receive a
Certificate: Lucky Investment
!
Use the chance to increase your wealth!
Warriors! Many of you have long been fighting in the Ancient Temple and know the rules of this ancient battlefield well. But today something incredible has happened! The magical elements seemed to rebel in the depths of the Temple, giving rise to a real storm!
This outrage of the elements has changed the usual rules
,
when you enter the Battlefield
you will receive 10
Gift of Power
blessings while the Magical Storm lasts in the Temple of the Chosen!
You will also have
double valor
and
no-break
during the weekend in the
Ancient Temple
!
Don't waste time, hurry up to fight in the Ancient Temple, while the Magical Storm lasts and experience the power of the Gifts of Power!


Defenders of
Ogriy and
Khair!
Merchants have decided to update their Fair's assortment! All buying restrictions have also been reset, so you can purchase goods again!
Old amulets using which you'd be able to call Burial Mound Dzerug, Marble Anlagrissa and Razortooth Scorpolion.
The following new items will also be available during this sale:


Rings will also be available for purchase:
For the most eager and hard-working
resource gatherers
there are
Evil Eye Pot
available.

Jesters Clan Challenge!
The clan competition has entered the final stage

Jesters now will choose the winners. Those will be published next Wednesday (29th of August). The decision will be hard as we have a lot of great comics to read. A great Thank you to all participants to entertain us with their little stories!


Enjoy the lecture!

Detachments of Humans and Magmars, wishing to protect their native lands from the raids of merciless orcs, once forgot about centuries of hostility and joined forces to fight the common enemy. This is how the legendary «Night Stealers» clan was born. For many decades, despite the bitter confrontation of the races, mercenaries managed to maintain friendly relations and mutual respect within the brotherhood.
In addition, traders at the Fair of Wonders have heard of the grandiose competition and decided that all restrictions on the purchase of combat reinforcements from the "Combat effects" and "Temporary gains" sections of the shop will be reset every 24 hours!

Take part in the «Brotherhood of the Brave» competition and prove that your clan is a united and powerful force!
What is that unusual noise that is heard on the Trade Fairs of both capitals? A squeak of bend wood, melodious sound of bowstring, a whistle of flying bows… No, that is not the exchange of fire with the enemy, that is customers trying out newly arrived goods. Warriors' Fair of Wonders has started in the World of Faeo!
IMPORTANT!

Bows and amulets are not on sale this time.



Enjoy the fair, warriors!
The Fair will be open till August 29th, 12:00